Creative Responsibility
Our progress so far
Creativity matters to society.
Creative people invent, imagine and solve problems.
Now, more than ever, is a time to be creative.
With the rise of Artificial Intelligence, creativity will become increasingly important as the defining human talent. It sparks original thinking, and is the one thing that machines won't be able to do.
At Penguin Random House creativity drives everything we do. Whether it's through the stories and ideas we share with the world, or the way we do business, it's at our heart.
But not everyone in our society has an equal opportunity to meet their creative potential. This is called the 'creativity gap'.
Our mission is to help close this gap.
To achieve this we have set ourselves some ambitious goals to reach by 2020, focusing on four pillars:
Reading
Community
Inclusion
Sustainability
Reading
Helping every child in the UK read well by the age of 11
In England, struggling to read is more closely linked to the risk of being unemployed than in any other developed country.
Nearly one in three children growing up in poverty in England leave primary school unable to read well. This can have a massive impact on their future chances in life.
As publishers, we know we can make the biggest impact by making reading fun and accessible through the power of our books, authors, characters and brands.
To focus our efforts we joined Read On. Get On, a national coalition committed to improving children's literacy. We help in a number of different ways, including providing heavily discounted books to BookStart Baby which gifts a free book to every family in the UK in their baby's first year.
Spotlight On: Nurturing a culture of reading in the North East
Co-founded with the National Literacy Trust in March 2017, Read North East marks a new chapter for literacy in the area.
Almost 30,000 children in the region do not have a book of their own at home. Read North East is changing this.
So far we've donated over 3,000 books to local families through schools and libraries, in shopping centres and football stadiums, and even at the Stockton Sparkles Christmas lights switch-on.
The campaign focuses on encouraging parents to talk and read to their babies and children, so each book comes with activity sheets and family reading tips.
One parent who received books said: "I enjoy reading with Joey because he's just learning to put the words together now. It's great. He enjoys the books that he's given because he knows that they're his."
What else?
We are a core funder of World Book Day, the biggest annual celebration of books and reading
Every year we team up with our authors to publish Quick Reads – short, accessible books designed for adults with lower literacy levels
We donate thousands of books to the Reading Agency every April to celebrate World Book Night, connecting prisons, libraries, care homes and homeless shelters across the UK with our stories
Community
Supporting the communities on our doorstep and beyond
We want to play an active role in each of the communities local to our offices and warehouses. We focus our efforts where we can make the biggest difference by partnering with the schools on our doorstep.
Our Volunteer Readers are at the heart of this relationship – colleagues who spend 30 minutes each week reading with a child showing early signs of illiteracy or struggling with confidence in reading.
Spotlight On: Celebrating three years with Ministry of Stories
Raised over £190,000
Volunteered for 1,200 hours
Walked over 10,370 miles
Reached over 2,000 young people
Co-founded by author Nick Hornby, Ministry of Stories is a creative writing and mentoring charity for disadvantaged young people based in the heart of East London.
Over the last three years our funding, time and expertise has helped Ministry of Stories to engage over 2,000 young people with writing activities that transform how they see themselves, and how their community sees them.
Together we've collaborated on two flagship projects, captivating the imagination of the children and helping them to realise their creative potential.
In June 2017 we launched 17 new picture books, written by Ministry of Stories' children and brought to life by volunteer illustrators.
In May 2018 we published the Ministry's first ever collection of audio short stories, written and recorded by children aged between eight and twelve, complete with sound effects and music.
What else?
In 2018 Penguin Random House celebrated World Book Day like never before. 500 colleagues volunteered in hundreds of schools, nurseries, and communities in some of the most literacy vulnerable parts of London – from Barking to Bermondsey.
Our efforts reached over 5,000 children and young people across the capital, sharing the magic of reading and stories with young children and inspiring teenagers to consider publishing as a future career.
Inclusion
Championing diverse voices in our employees, authors and books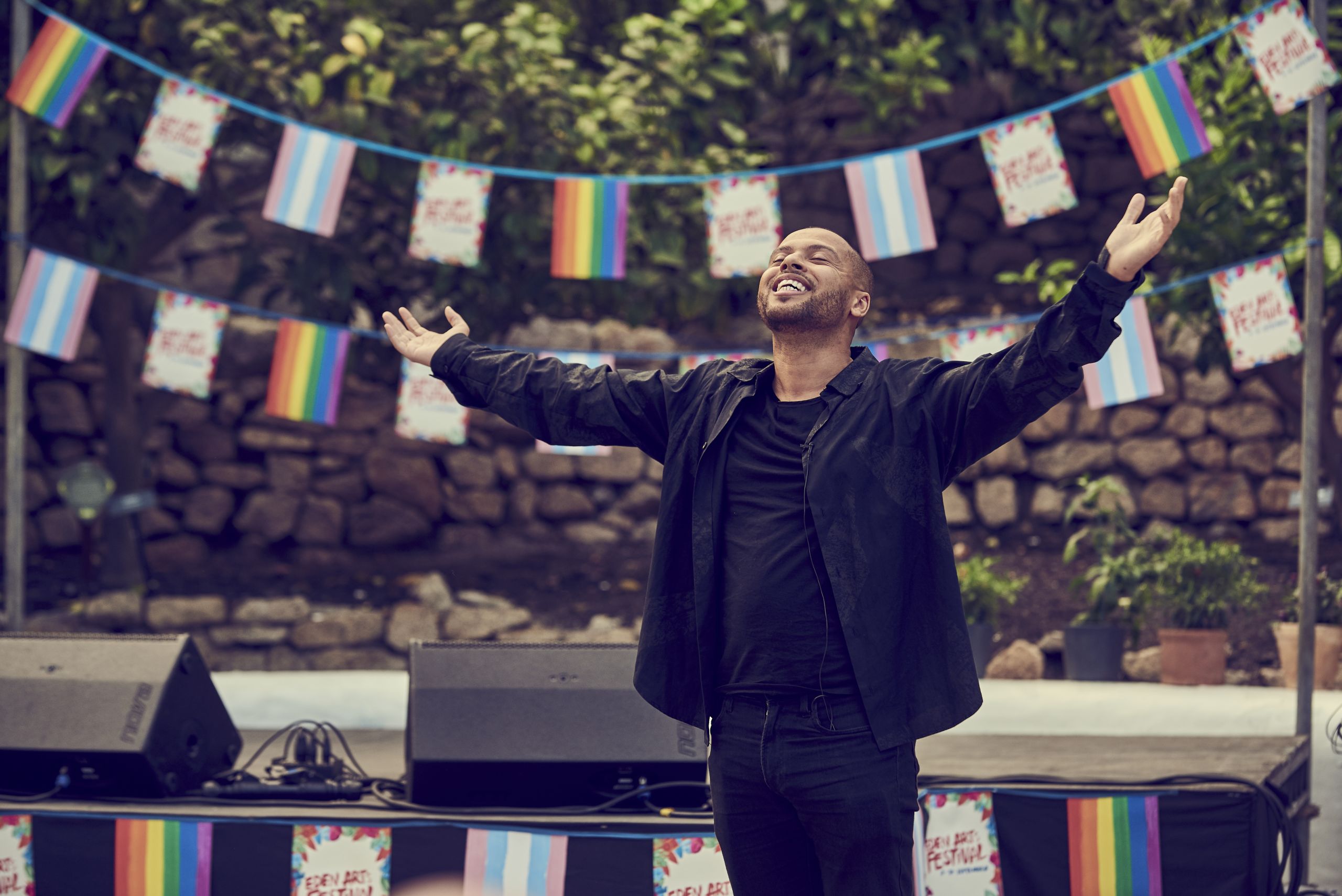 Books shape the culture of society. They inspire TV shows, films, stage shows, podcasts and more.
Yet too often culture is shaped by people who come from a narrow section of society.
That needs to change.
Over the last few years we've worked hard to create a more inclusive and representative publishing industry. We have found new ways to break down barriers, both for authors and for future publishers – but we still have more to do.
Please note that we only started capturing author data at the end of 2017, and so will publish this information in next year's report.
Spotlight On: Growing a more inclusive workforce
"I look after the work experience programme at Penguin Random House, which involves coordinating over 400 placements each year.
I really, really love it. I think the best part of the job is meeting the people doing work experience and seeing how passionate they are. It's a really good feeling knowing that I'm helping get them to where they want to be. It's such a purposeful thing. When you're tired, waking up on a Monday morning, you can say "hold on, maybe I'm changing someone's life here."
We pay people doing work experience the National Living Wage, which is something that's very important to me. I want to make sure it's as accessible as possible.
I actually did work experience here back in 2016 and I made a video because I wanted to show everyone how great a time I was having. I booked a meeting room and shot this video myself and sent it off to the person who was here before me, and she put it on YouTube! It's been a great tool for getting people to apply, especially people of colour, because they'll see my video and think "well if you can do it so can I, it must be alright." Looking back on it, it's quite embarrassing, because I've changed a lot and it's a really cheesy video, but I'm glad I made it.
I know a lot of people doing work experience struggle with confidence and talking to other people, talking to their managers, so I want to address that. I'm starting an induction focused on office etiquette, confidence building, how to network, how to mingle. Publishing is a creative industry and it can be a bit intimidating if you're used to a rigid structure, so I'm hoping to dispel some myths!"
Gift, Early Careers Coordinator
We've taken a number of steps to ensure our work experience is more accessible, including:
Welcoming 450 paid two-week work experience placements every year. We are the only UK publisher to offer paid work experience
Ensuring access to work experience opportunities is fair by removing all personal referrals and instead using a random selection process to select successful candidates
Offering subsidised accommodation for work experience candidates joining from outside London
Spotlight On: Championing diversity through the Penguin brand
"I've literally breathed books since I was about four. My grandad had a bookshop when I was a kid that he ran out of the front of his house, so I'd get dropped there after school.
I think growing up in a bookshop environment means that I get a thrill out of physically putting books in people's hands, and that's what I try and do. I work out how to get the right books to the right readers through cultural moments like Christmas, or Pride, or International Women's Day.
I've taught myself to view all of my work through the lens of whether I'm representing people well enough. It's important to remember that not everyone, in fact most people, do not want to read about the pain that goes with their identity. It's really important to humanise those people as well, and that means making sure they're represented at those big moments that are universal. Universal doesn't mean default - it means everyone.
Penguin started as a way to get literature into people's hands in a way that was affordable and accessible. That revolutionary spirit is something that we can also apply now – this International Women's Day we created the Like A Woman pop-up shop and only sold books by women, and our Penguin Pride events give a platform to performers from across the LGBTQ+ community.
There's a value to a brand like Penguin enabling communities to take up room. Sometimes it's about us elevating other people's voices, and sometimes it's about the voice actually going through us.
The idea of having a seat at the table isn't just a metaphorical one, it's literally giving people a seat at the table, and if that's something we can do with the brand then that's awesome."
Zainab, Creative Manager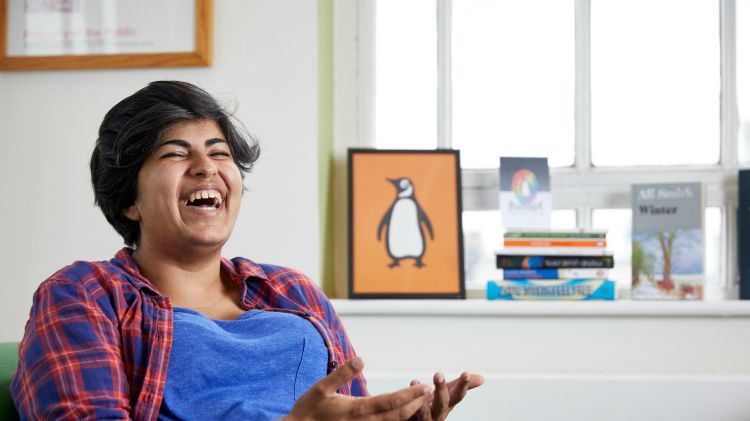 We're making our workforce more representative of society by:
Removing the need for a university degree from all our jobs
Increasing the pay of eight-week summer internships to the London Living Wage
Offering paid 6-month editorial traineeships for BAME and socio-economically marginalised candidates with The Scheme
Inspiring young people to consider a career in publishing with JobHack – a series of regional interactive careers workshops for 18-25 year olds
Loaning staff the cost of a rental deposit with Home Sweet Loan
Spotlight On: Finding new writers with different stories to tell
WriteNow aims to find, mentor and publish new writers from communities under-represented on the nation's bookshelves.
Through WriteNow we host workshops for talented writers. These events offer information and inspiration about how to get published. Participants are given the chance to hear from published authors and literary agents, receiving one-to-one feedback on their work from an editor. We then take forward the most promising writers onto our year-long mentoring programme – pairing them with one of our editors.
So far, six writers from the programme have signed book deals with Penguin Random House, creating a new route to publication for us.
300 writers at six regional workshops
98% said the workshop had increased their confidence
23 writers mentored
Six book deals and counting
"At first I didn't want to apply to WriteNow because I thought, well, I'm a care leaver. Technically I am from an under-represented background, but I thought there are other people who deserve it more than me.
Reading around the programme and finding out a bit more about why Penguin Random House are doing it made me realise that I actually really did want to apply. A lot of my writing is about care, so I feel like I have something important to say. There's not that much about the care experience in fiction, so hopefully I am contributing to it.
My book is about a young girl growing up in care in the suburbs. She falls pregnant at 15 and has to decide whether or not she's going to have an abortion. The story is about her decision, as well as the themes of motherhood and family that come in.
The mentorship process has been amazing. My editor has been so enthusiastic about my story. Having someone say to you that your work is valid and important, and inviting me to a workshop, that in itself was enough validation for me.
The support network, from my editor and the other WriteNow mentees, has made it feel really nice and cosy. Everyone is there to support you. When you're writing in isolation it can be quite hard to self-motivate but having all these people around you who believe in you, who are telling you to keep going, is amazing. And then all of the support on technical stuff is really helpful, story arcs and narrative trajectory, thinking about the nitty-gritty and what's actually publishable.
One thing I didn't expect was how WriteNow would make me feel about myself. I'd say I'm quite a confident person, but this whole experience has been so validating. It's pushed me to try other things as well, so I'm submitting to more places, I'm writing short stories outside of the novel I'm working. Before I wouldn't submit because I thought I didn't have a shot, or that I wasn't good enough, but now I believe in myself more."
Kirsty Capes, WriteNow mentee
Sustainability
Sourcing raw materials sustainably and reducing our environmental impact
To make books, we need paper.
To make paper, we need trees.
Trees and forests cover almost a third of the world's surface. But we are losing them at a rapid rate.
Safeguarding forests for future generations is crucial to combat climate change, and to protect the people, plants and animals that call them home.
When forests are managed properly, wood is fundamentally a renewable resource. That's why we focus our efforts on making sure that the paper we use is responsibly sourced, and from well-managed forests. We define paper from well-managed forests as FSC TM (Forest Stewardship Council TM). Our FSC Licence code is ​​FSC-C018179.
For example Holmen, our biggest paper supplier, thinks in decades not years, planting two new trees for every tree they use.
"Don't be satisfied with stories, how things have gone with others.
Unfold your own myth."
Rumi, poet


Photo credit throughout: Tom Dymond; Tom Oldham; Will Fahy